Why Choose Laser Dentistry?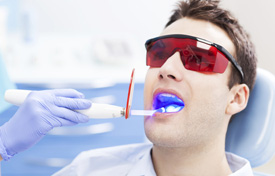 We've all been there—you're experiencing tooth pain or sensitivity and suspect you may have a cavity so you visit the dentist. Turns out, you're right. But instead of dreading the drills, noises and associated pain that comes with fixing your tooth, Summer Hill Dental Group is proud to offer you an alternative—laser dentistry!
Here are a few reasons to consider laser treatment at your next visit.
1. There's no need for needles.
With laser dentistry, Dr Stephen Lenton (Dentist) uses a tool powered by water to project a laser that corrects your filling. The process is very gentle.
2. It's much gentler on your teeth.
There's no need for "picking" or "scraping" at your teeth with multiple tools.
3. There's no uncomfortable vibration.
As many patients don't like the feeling and sound of the dreaded dental drill in their mouths, we're happy to report that with laser dentistry, there is absolutely no vibration during your care.
Interested in booking a visit with us? We'd love to see you. Contact our practice today to schedule your time.