Dental Veneers at Summer Hill Dental Group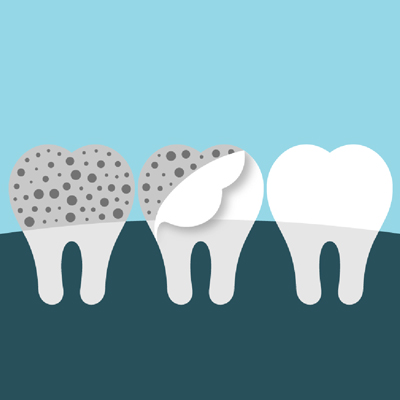 At Summer Hill Dental Group, we've been helping the people in our community achieve healthy, gorgeous smiles for more than 80 years. Veneers are a popular, simple option to transforming the look of your teeth, available from our caring, gentle team.
You can think of a veneer like a false fingernail that would be used in a manicure. It's a thin shell made of porcelain or composite that's placed over a front tooth to give it a more aligned look. The type of veneer that's right for you will depend on what you want to achieve and your budget, which we'll be happy to advise you on.
Why choose veneers?
Veneers are conservative and don't require the removal of much of the tooth surface in order to be placed. A versatile option, veneers can also help with a number of smile concerns:
Closing spaces between the teeth
Lengthening misshapen or small teeth
Whitening or lengthening darkened teeth
Fixing teeth that have been chipped or worn down
What to Expect
We'll want to ensure that veneers are the correct solution for you to achieve your goals. First, you can contact us to book a time to chat with no obligation. If you decide to move forward, the steps involve taking moulds of your teeth and collecting other necessary measurements, showing you before and after pictures of the projected results, talking through costs and arranging a time to have the veneers placed. After the simple procedure, we'll book a follow-up to ensure that you've achieved the exact outcomes you want. We'll even talk you through the proper maintenance of your veneers to ensure long-lasting results.
Get Started Today
Book an appointment today with our warm and caring Summer Hill dentists today. Personalised payment plans are also available. As always, new patients are always welcome. Contact us today and find out which of our many services are right for you (02) 9798 7707.

Dental Veneers Summer Hill, Ashfield NSW | (02) 9798 7707