Dental Implants at Summer Hill Dental Group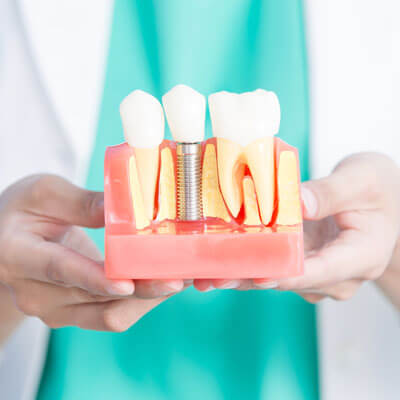 If you've looked in the mirror or at a picture of yourself and wished that your smile was gap-free, we understand the toll missing teeth can take on your self-confidence. At Summer Hill Dental Group, the many dental solutions we offer include dental implants in Summer Hill.
Implants are the most advanced solution to tooth replacement available today, and we're pleased to offer this leading-edge option to our patients.
What Are They?
The next best thing to natural, healthy teeth, dental implants are strong and stable. It looks, functions and feels like a regular tooth. Options such as bridges or dentures may lead to the deterioration of bone and can interfere with your ability to speak, eat or smile.
What Are The Advantages?
With so many options available to replace teeth, it can be confusing to find the one that's right for you. There are many reasons to choose dental implants:
Worry-free wear: You shouldn't have to feel concerned about your smile looking different. Dental implants won't loosen or fall out while looking completely natural. You can eat the foods you love, talk and laugh as you wish, living the life you want. Dental implants also won't slip, fall or need to be repositioned – they're a permanent solution that is fixed in place by being fused to your jawbone.
Treated as normal teeth: There are no special requirements to maintain your dental implant. You can brush, floss and get regular checkups to ensure the health of your teeth and your implant.
Retaining your facial profile and smile: Without teeth, your face can sag and look sunken. Implants maintain your look and won't deteriorate or change over time.
Protecting healthy bone and teeth: If you leave an empty space in your mouth, health issues such as jawbone deterioration or loss can occur. Implants stimulate and preserve natural bone, promoting bone growth and preventing loss. Devices such as bridges require the removal of some tooth structure on the neighboring teeth that must support the device. Implants don't require any other teeth to be changed and prevent any shifting from occurring.
How Long Do They Last?
Built to last, dental implants can last a lifetime with proper care. They are a long-term, cost-effective solution that has a longer life than bridges or dentures. With predictable outcomes, dental implants have a great track record of being reliable and having successful outcomes.
Just like a natural tooth, you can brush and floss your dental implant. Though cavities can't occur in the implant, good oral hygiene habits including regular dental checkups will ensure your implant is perfectly suiting your needs.
Learn More Today
To learn more about dental implants and if they might be right for you, contact us today! Personalised payment plans are also available. As always, new patients are always welcome.

Dental Implants Summer Hill, Ashfield NSW | (02) 9798 7707