Dental Crowns at Summer Hill Dental Group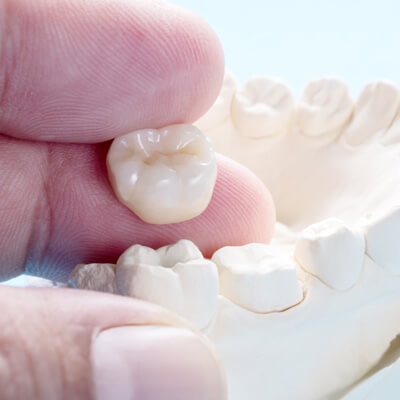 At Summer Hill Dental Group, our dental team provides a range of services to suit the needs of all ages. When your teeth have been worn down or damaged, a dental crown in Summer Hill may be your best option to restore the health of your tooth and the look of your smile.
Crowns, sometimes referred to as caps, are placed over a weakened tooth to rebuild and strengthen its structure. It can also improve the shape or colour of your teeth.
With a dental crown, you can smile with confidence and know that you have the function and look of a natural tooth.
Materials We Use
Once we've determined that a crown is the most suitable solution for your situation, we'll discuss the materials with you. Porcelain is most commonly used, and the shade of it will be chosen to match your existing teeth. If it's a tooth toward the back of your mouth that's being crowned, we may recommend a gold material thanks to its longevity and strength. Your case is unique to you, and we'll be happy to discuss all options with you.
What To Expect
After you have chosen to move forward in getting a crown, the first step will be removing any damage or decay. Then, we'll take an impression of your tooth, which is sent to the laboratory to create your crown, and you will receive a temporary restoration. When it has been sent back to our practice, you'll return and have the permanent crown bonded into position.
Get Started Now
Our gentle, caring team will be happy to discuss any concerns you have or get you set up for your first visit with one of our qualified, knowledgeable dentists. Personalised payment plans are also available. Book your appointment with us today!

Dental Crowns Summer Hill, Ashfield NSW | (02) 9798 7707