Cosmetic and Restorative Dentistry in Summer Hill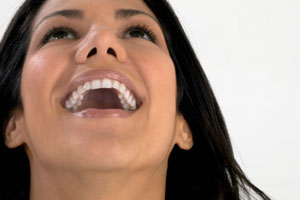 At Summer Hill Dental Group, our caring team offers a range of cosmetic and restorative services. From providing teeth whitening to dental implants, our experienced dental professionals can look after all your dental needs.
You can find out more about our broad range of cosmetic dentistry services below.
Missing teeth affect your self-confidence and your ability to speak or eat as you'd like. A dental bridge can replace a single tooth or multiple missing teeth. It is a permanent, fixed solution that involves a row of dental crowns. The ones on the end are affixed to the teeth on either side of the gap, with the rest suspended into the area where the teeth are missing.
Teeth can become damaged from trauma, decay or the ageing process. There's no need to lose the tooth, however, if its structure is compromised. Instead, a dental crown can restore the tooth's stability. Available in a variety of materials, it fits seamlessly over the existing tooth for a perfectly natural look and feel.
Dental implants have quickly become the gold standard in the replacement of missing teeth for good reason. They have a natural look and feel, are permanent, can be used in a variety of situations and are easily cared for just like regular teeth. You won't have to worry about replacing them in years to come or wear and tear, as they're designed to last a lifetime.
In years past, most people would think of dentures as bulky and uncomfortable. In today's modern dental world, dentures are available in several forms and materials for a seamless fit. We provide replacement, immediate or implant-supported dentures depending on your needs. With great stability and a snug fit, you'll be able to chew and speak without problems.
A gorgeous smile leaves a positive first impression. If you've noticed that your teeth aren't as bright as they used to be and would like to make a change, we provide take-home teeth whitening. Opalescence® teeth whitening gives fantastic results and has been an industry leader for over 25 years.
If you would like to make cosmetic changes to your smile, veneers can address gaps, misalignments, chips, discolouration and general wear. They are a thin shell affixed to the front of the tooth, masking imperfections and giving you a more aligned smile. With the proper care, they'll last for years to come.
Are you ready to gain a more dazzling smile? Contact our team today to book your first appointment!
SCHEDULE YOUR APPOINTMENT TODAY!
We offer personalised payment plans and convenient Saturday appointments in Summer Hill!
Contact us today and find out which of our many services are right for you (02) 9798 7707.
Any surgical or invasive procedure carries risks. Before proceeding, you should seek a second opinion from an appropriately qualified health practitioner.

Cosmetic Dentist Summer Hill, Ashfield NSW | (02) 9798 7707